Emilia Romagna Grand Prix: F1 – live! | Formula One
Lap 46/63 Hamilton has a hack at Gasly, who shuts the door. But suddenly, things are looking murky – might we get a livening downpour?
1 Verstappen
2 Perez
3 Leclerc
4 Norris
5 Russell
6 Bottas
7 Vettel
8 Magnussen
Lap 45/63 Hamilton is within approximately 0.2s of Gasly as we notice some debris on the track. A safety car is the only way someone might catch Verstappen, but looks doubtful.
Lap 44/63 My Chrome not only crashes but refuses to return. Nothing much happens, though.
Lap 43/63 Verstappen won't have enjoyed many races as easy as this. He'll be delighted wit the start he made, but really he won this yesterday in qualifying.
Lap 42/63 Watching Hamilton like this is something. I guess it's not dissimilar to watching Manchester United, both pursuits not without their humour.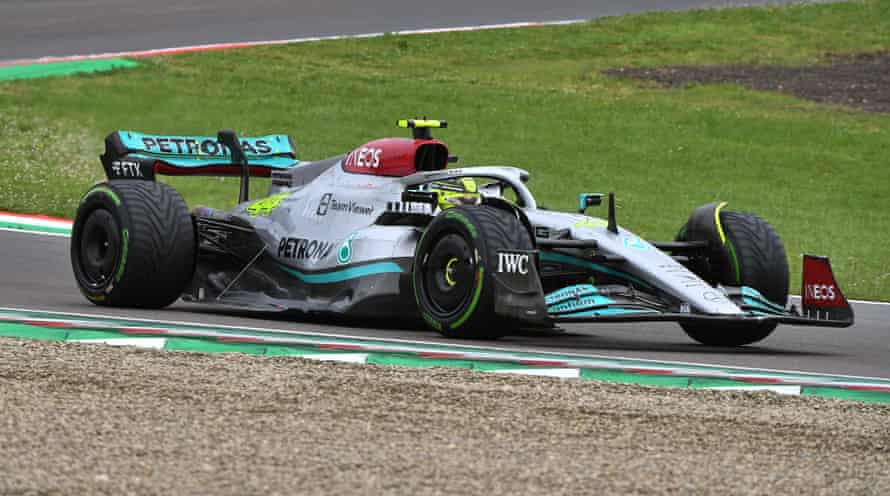 Mercedes' Lewis Hamilton during the race. Photograph: Jennifer Lorenzini/Reuters
Updated at 10.13 EDT
Lap 41/63 We're with Hamilton as he tries to get close to Gasly … who bousts away.
Lap 40/63 In sixth, Bottas is half a second quicker on his last lap than Russell in eighth and the gap between them is approximately 1.5s – he's plenty of time to move up a place. Russell, though, is a tenacious rude information, and will be planning to hang on.
Lap 39/63 "I think he might have a little smile in his helmet," says Nico Rosberg as Verstappen prepares to lap Hamilton. He leads Perez, who's struggling with back markers, by 12.178s.
Lap 38/63 Verstappen will soon be lapping Hamilton – you've got to laugh are words I doubt anyone at Mercedes will be uttering. But those of us with no skin in the game can enjoy the ability of sport to inflict untold misery, and make no mistake: this is that.
Lap 37/63 Hamilton's inability to pass already Gasly will be depressing him greatly – maybe he should take a gap yah whole his team figure things out. Verstappen leads by 12.684s, while Leclerc trails Perez by 1.749s.
Lap 36/63 Verstappen is taking this off the set. He leads by 11.006s.
1 Verstappen
2 Perez
3 Leclerc
4 Norris
5 Russell
6 Bottas
7 Vettel
8 Magnussen
9 Tsunoda
10 Stroll
11 Ocon
12 Albon
13 Gasly
14 Hamilton
15 Latifi
16 Zhou
17 Schumacher
18 Ricciardo
Lap 35/63 Amen selah! DRS is with us, so Perez only needs to make up 10s on Veerstappen to get the assistance. Behind him, his rule over Leclerc is now 2.238s.
Lap 34/63 Another fastest lap for Verstappen, whose rule is up to 10.857s. It'll take something meaningful for him to botch this while, behind him, Hamilton, 14th, gets closer to Gasly, 13th. What a sentence that is to kind.
Lap 33/63 And here's Horner now, telling Sky the deployment of DRS is up to the race organiser. That's awfully magnanimous of him – I ingemination him taking a more eager interest in such matters when his drivers weren't out in front. In Abu Dhabi, for example.
Lap 32/63 Verstappen is overtaking back markers now, and is on target to do likewise to Hamilton. I daresay Christian Horner will allow himself a chortle should that happen.
Lap 31/63 It's quite sedate now, the top places pretty set. Eleventh to 14th is close, but that's about it.
Lap 30/63 Perez now needs Leclerc by 1.292s, and the chances of him taking second are receding. He needs something to go wrong with the second Red Bull.
Lap 29/63 Schumacher is flagged for driving over the kerb – one more and he gets a penalty. We then see Perez driving over the edge of the track and understand why he now trails Verstappen by 9.566s.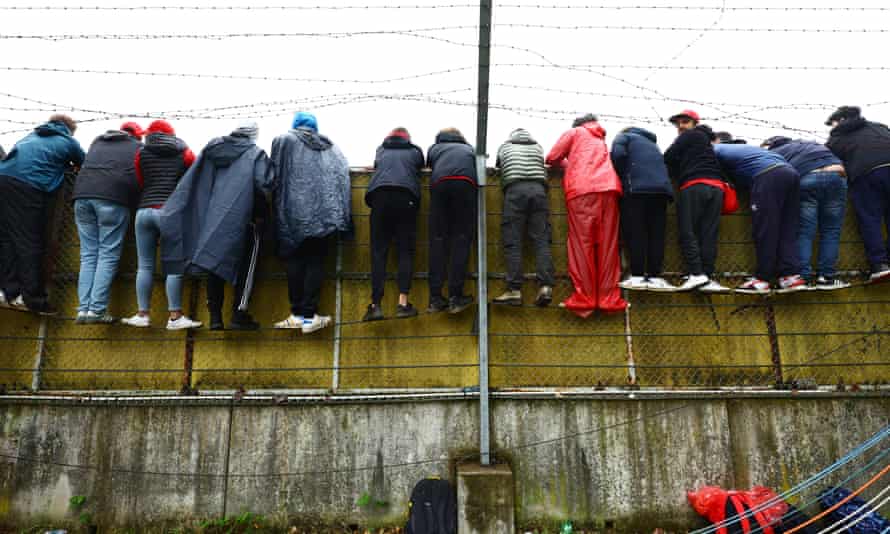 Fans watch the action over a wall . Photograph: Mark Thompson/Getty Images
Updated at 09.52 EDT
Lap 28/63 Verstappen sets a fastest lap and now leads by 8.135s – it turns out Perez went over the kerb, and Leclerc is close to him! But on the straight, the Red Bull has more than the Ferrari and Perez eases away.
Lap 27/63 Tsunoda passes Stroll to go ninth as we surprise, however again, why with all the drivers on slicks and a dry racing line obtainable, the race organisers have switched off DRS.
Updated at 09.48 EDT
Lap 26/63 Rain is moving away from the circuit, drivers are told, and though Verstappen is more than capable of dominating in a downpour, the less happens, the more likely he is to win. His rule, though, has been cut to 6.705s – Perez is absolutely flying at the moment.
Updated at 09.57 EDT
Lap 25/63 Hamilton lost a bit of time pitting, but how well Russell's doing in P5 will not be lost on him. His teammate's start was the difference, and though he doesn't have the gas to attack Norris, he's doing well enough keeping ahead of Bottas.
Lap 24/63 Perez sets a fastest lap, exactly what he needs. He's extended his rule over Leclerc to over a second, but Verstappen is nevertheless 7.423 in front of him.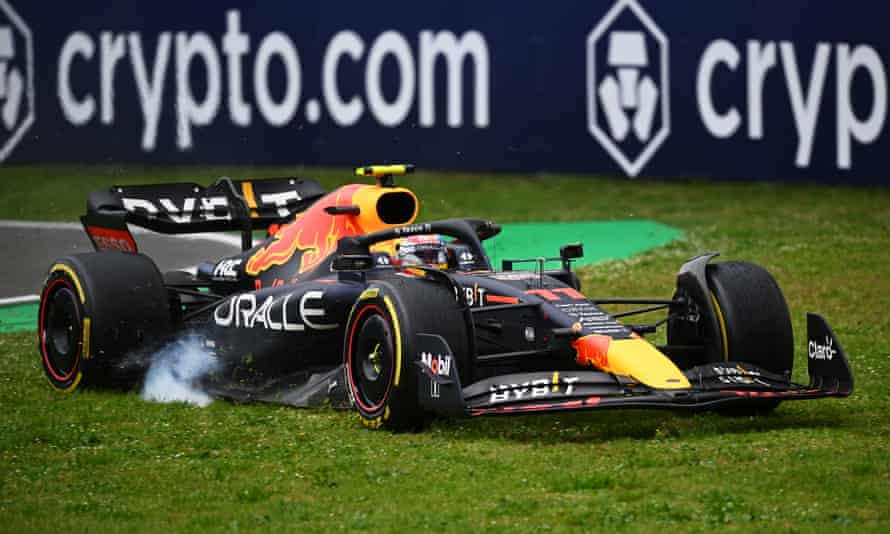 Sergio Perez runs wide . Photograph: Clive Mason/Getty Images
Updated at 09.57 EDT
Lap 23/63 Ocon is given a five-second penalty for unsafe release while Leclerc gets to within 0.2s of Perez before deciding he can't have a hack at him because he's on a wet patch. If they turn on DRS, though he'll pass him very quickly.
Lap 22/63 Hamilton is now 14th, behind Gasly, Albon and Ocon. Eeesh! Verstappen leads by 7.474s while, behind him, Leclerc is within 0.863s of Perez.
Updated at 09.40 EDT
Lap 21/63 Verstappen nevertheless leads when he comes out, Perez, whose tyres are warm, nips ahead of Leclerc, then we see Hamilton and Ocon bumping in the pit lane. Ocon came out, taking the track Hamilton fancied for himself, help position, and here we are!
1 Verstappen
2 Perez
3 Leclerc
4 Norris
5 Russell
6 Bottas
7 Vettel
8 Magnussen
9 Tsunoda
10 Stroll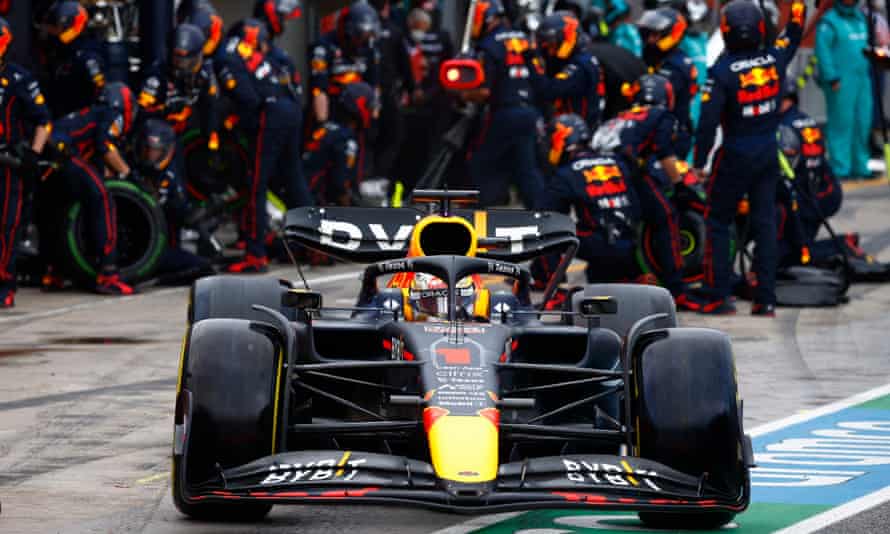 Max Verstappen in the pit lane . Photograph: Guglielmo Mangiapane/Reuters
Updated at 09.41 EDT
Lap 20/63 Suddenly the pit lane is very busy, Bottas in – and he's got a problem on the front of his car! That's a disastrous stop, Hamilton pits, Ocon gets out ahead having attained in the pit lane, Gasly undercuts him, and that's two places lost for Mercedes! Now Verstappen, Leclerc and Norris pit, and that's worked very nicely for the leader.
Lap 19/63 Gasly and Albon come in and it looks like there'll be extensive changing to slicks. Thing is, though the rain looks less likely than before, those at the front have a lot more to lose, so perhaps Red Bull will try changing Perez, see how it goes, then take a view on Verstappen … and that's exactly what they do! Here we go!
Lap 18/63 "We need some DRS in this race," says David Croft, to give overtaking a chance, while Ricciardo, last, pits. That'll be helpful to the rest of the field, who're keen to know how slicks go.
Lap 17/63 Hamilton is closing on Stroll and both are closing on Tsunoda while, in comms, they reckon the track is dry enough for DRS. Verstappen won't care much either way, his rule now up to 6.667s.
Lap 16/63 Leclerc is told by his team to focus on corner exits, complaining that every time he does, he loses time. But he's taking chunks out of Perez so must be doing something right.
Lap 15/63 There's barely anything to say about Verstappen, which tells you he's having a very nice afternoon sojourn. He's just set the fastest lap and leads by 6.231s while, behind him, Leclerc has closed to within 1.316s of Perez.
Lap 14/63 It's all going wrong for Magnussen, who's passed by Bottas, while Hamilton, in 11th – ! – attacks Stroll. I daresay such sentences will feel strange to read and write for some time however.
Lap 13/63 Leclerc is getting nearer to Perez, while Verstappen maintains his rule of nearly six seconds.
Lap 12/63 Russell get side-by-side with Magnussen and it's third time lucky! He passes on the outside … then makes a mess of the chicane and is passed himself!
1 Verstappen
2 Perez
3 Leclerc
4 Norris
And excuse me while I interrupt myself! Russell nips past Magnussen again, who's closest threatened by Bottas, in seventh!
5 Russell
6 Magnussen
7 Bottas
8 Vettel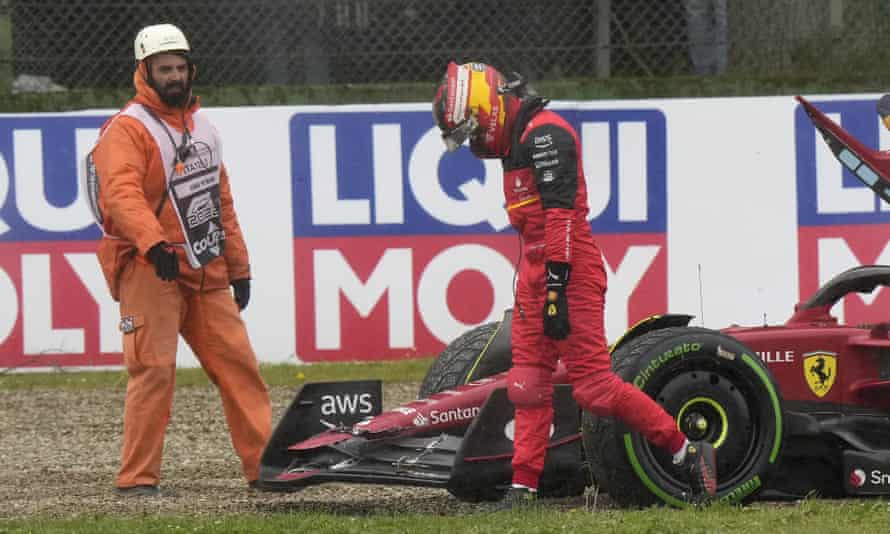 Out: Ferrari driver Carlos Sainz of Spain walks after crashing . Photograph: Luca Bruno/AP
Updated at 09.31 EDT
Click: See details