Australia Covid updates live: Brisbane case sparks public health alert…
23:09
NSW aim strike disrupts rail sets
The NSW rail network is being disrupted this morning, as drivers strike for better pay and conditions.
Commuters are expecting big delays this morning on all regional and city sets, with people asked to make different arrangements.
From 9am, aim drivers for Sydney Trains and NSW TrainLink will strike, until 1pm, as part of their current industrial action. sets are expected to be affected from 7am to around 3pm.
Unions say they planned the action for weeks, especially around getting basic workers to and from work. The strike comes during negotiations for a new enterprise agreement, where the parties keep at loggerheads over pay and safety issues.
Rail, Tram and Bus Union NSW secretary Alex Claassens told AAP there could be more industrial action in the next month if the government continued to workers' demands.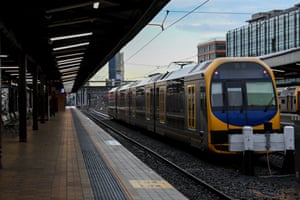 Updated

22:55
The NSW deputy premier John Barilaro was on Sunrise earlier this morning getting grilled about the road map for the unvaccinated, a sticking point from yesterday's press conference.
Barilaro was asked if giving unvaccinated people complete freedoms from December was essentially encouraging them to avoid getting the jab until then.
This was what the deputy premier had to say:



We live in a time of anxiety and fear. We are leading into the Christmas period and leading into a time where people reunite and it is only fair we can communicate what the plan will look like.

We are confident we'll be close to 90% vaccination in the state [by the end of the year].

Being honest is important. I believe that people will not be holding back vaccination just because they can think they can get away until December 1. There will always be those that won't get vaccinated.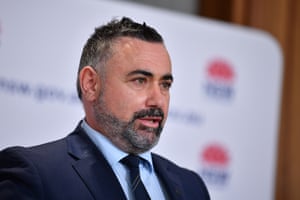 Updated

22:39
So, just building on the mystery case in Brisbane, Queensland Health have released a public health alert for locations in Eatons Hill, Aspley and Albany Creek in Brisbane's north and Rocklea.
Some of the locations include Seats 'R' Us in Rocklea and Mother Duck childcare centre and kindergarten at Eatons Hill.
Investigations are current into the source of the case.
22:30
Good morning, Mostafa Rachwani with you this morning to take you by this morning's news.
We start in Queensland, where a mystery Covid case appearing overnight has left authorities scrambling. The situations, an aviation worker in his 30s, has no recent history of overseas or interstate travel, with the source of his infection nevertheless unknown.
It has meant the state's health department has listed a raft of new exposure sites, and we expect a complete update from them later today.
It comes after NSW recorded a recent low of 787 situations yesterday (although Covid testing numbers were also down), with hopes the state can continue to see case numbers dropping. It also comes after NSW premier Gladys Berejiklian yesterday outlined the state's roadmap out of lockdown, marking 11 October as the beginning of the three-stage reopening plan.
This morning Yass Valley will wake up out of lockdown, after stay-at-home orders were lifted as scheduled. Cowra, in the state's central west, will keep in lockdown though, due to current transmission.
There are also eyes on Victoria's case numbers, after they fell yesterday in addition, with hopes the restrictions and vaccination efforts have taken effect.
As always, we will bring you all the press conferences as they come, and everything else swirling around today.


Click: See details